Lubrisyn™
For Equine Joint Health

Tyler Magnus video supporting Lubrisyn
Lubrisyn Brand Equine Joint Health Supplement

LubriSyn is a patented supplement of hyaluronic acid, which contains the same glycosaminoglycans that lubricate joints in the body and let cartilage caps glide together with minimal friction.
When HA is given orally, there are no side effects. As a naturally occurring substance, LubriSyn will not skew post-competition testing.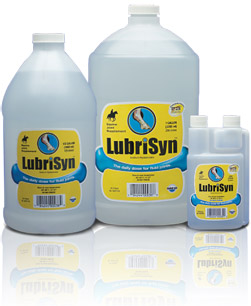 Twin-Neck Pint (32 Doses) - $66.00
Twin-Neck Quart (64 Doses) - $122.00
Half-Gallon (128 Doses) - $195.00
Gallon (256 Doses) - $350.00




Accessories:


Equine Pump - $15.00
Equine Dosing Gun - $75.00